Posts for tag: dentures
By Protech Dental Care
June 09, 2019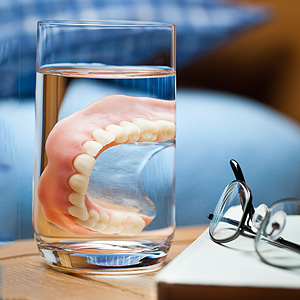 There's no doubt about it — dentures have changed your life. Now you can eat and speak normally, and smile again with confidence. But if you're going to continue to benefit from your dentures, you'll need to take care of them. One of the best things you can do is not sleep with them in.
There are a couple of important reasons why you should take your dentures out when you go to bed. First, dentures tend to compress the bony ridges of the gums that support them. This contributes to the loss of the underlying bone, an occurrence common with missing teeth. Wearing dentures around the clock can accelerate this bone loss, which eventually loosens your denture fit.
Constant denture wearing also contributes to mouth conditions conducive to dental disease. You're more likely to develop tongue and denture plaque (a thin film of bacteria and food particles) that can cause gum inflammation or yeast development. The presence of the latter could also trigger a chronic response from your immune system that might make you more susceptible to other diseases.
Good oral hygiene is just as important with dentures as with natural teeth. Besides removing them at night, you should also take them out and rinse them after eating and brush them at least once a day with a soft tooth brush. And be sure to use regular dish or hand soap (especially antibacterial) or denture cleanser — toothpaste is too abrasive for denture surfaces.
It's also a good habit to store your dentures in water or, better, an alkaline peroxide solution. This will help deter plaque and yeast development. And don't forget the rest of your mouth: brush your tongue and gums with a very soft toothbrush (different from your denture brush) or clean them off with a damp cloth.
Taking care of your dentures will ensure two things. You'll lower your risk for disease — and you'll also help extend your dentures' life and fit.
If you would like more information on caring for your dentures, please contact us or schedule an appointment for a consultation.
By Protech Dental Care
November 20, 2018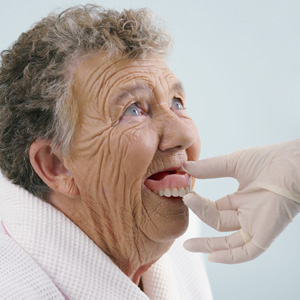 It's a common problem for denture wearers: after years of a comfortable fit, your dentures now seem to be uncomfortably loose. The reason, though, may have more to do with bone loss than the dentures.
Bone is a living tissue with a life cycle — it forms, it ages, and it eventually dies and dissolves (resorbs). It's replaced with new bone and the cycle repeats. Additionally, the forces generated when we bite or chew are transmitted from the teeth to the jaw, which helps stimulate new bone growth. When the natural teeth are missing, however, the bone no longer receives this stimulus. Resorbed bone isn't replaced at a healthy rate, which leads over time to bone loss.
Denture construction can also contribute to bone loss. The denture palate rests for support on the bony ridges that once held the teeth. Over time the compressive forces of the dentures apply damages and reduces the volume of gum tissue and eventually does the same to the bone. Combining all these factors, the reduced gum and bone volume will eventually alter the denture fit.
There are a few alternatives for correcting loose dentures. One is to reline them with new plastic, as either a temporary fix performed during an office visit or a more permanent relining that requires sending your dentures to a dental lab. Depending on the rate of bone loss, a patient could go through several denture relinings to accommodate ongoing changes in the jaw. At some point, though, it may be necessary to create a new set of dentures.
A third alternative that's becoming increasingly useful is to incorporate dental implants into the denture design. Implants can of course be used to replace individual teeth, but a few strategically placed implants (usually of smaller dimension) can serve as a support platform for a removable denture. This relieves some of the compression force of a traditionally worn denture and can slow bone loss.
If you're having problems with your denture fit, call us for an appointment. We'll help you decide on the best alternative to improving the fit and making your dentures more comfortable and secure.
If you would like more information on refitting loose dentures, please contact us today to schedule an appointment for a consultation. You can also learn more about this topic by reading the Dear Doctor magazine article "Loose Dentures."