Posts for: February, 2019
By Protech Dental Care
February 19, 2019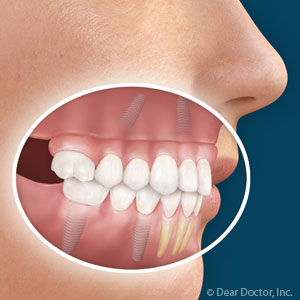 Losing permanent teeth is never good — unlike primary teeth, no natural replacements wait in the wings. But the good news is you have a number of options for replacing them with life-like prosthetic (false) teeth.
Today's premier choice is dental implants, preferred by dentists and patients alike for their durability and life-likeness. But because of their cost when replacing multiple teeth, many people opt for traditional dentures. And now dentures are easier to wear and maintain thanks to new, advanced materials and designs.
Still, there's one major area where implants have the definite edge over dentures — long-term bone health. Older bone cells die and dissolve (resorb), replaced then by newly formed cells. Teeth help perpetuate this cycle through the forces generated when we chew that travel through the roots to stimulate the formation of new bone.
But because this stimulation through a tooth ends when it's lost, new bone beneath the empty socket may not keep up with the resorption rate of older bone. As a result, you could lose as much as a quarter of normal bone width in just the first year after losing a tooth.
This bone loss will continue to accumulate even if you wear dentures, which can't replicate the bone growth stimulation of natural teeth. What's more, the constant pressure on the bony ridge of the gums can accelerate bone loss. Eventually, the firm, comfortable fit you first had with your dentures will become looser and less comfortable with the shrinking bone volume.
Implants, on the other hand, can stop bone loss and may even reverse it. This is because the titanium metal of an implant has a special affinity with bone cells that readily grow and adhere to it. This creates the anchorage responsible for the implant's durability, but it's also healthy for the bone.
Of course, this doesn't have to be a binary choice between the two restorations thanks to a new hybrid advancement that combines implants with dentures. We can install as few as two implants to support a removable denture. You'll enjoy greater stability, fit and durability with your dentures, while also improving bone health through the implants.
So before you decide on a dental restoration, be sure to discuss with us your implant options. Your oral health and appearance could benefit immensely.
If you would like more information on dental restoration, please contact us or schedule an appointment for a consultation. You can also learn more about this topic by reading the Dear Doctor magazine article "The Hidden Consequences of Losing Teeth."
By Protech Dental Care
February 09, 2019
You probably know practicing healthy dietary and lifestyle habits can help prevent tooth decay and periodontal (gum) disease. But good habits could also lower your risk for a more dangerous type of disease — oral cancer.
There are several risk factors for oral cancer, including those you can't do much about like your genetic makeup or unknown elements in the environment. But there are factors you can influence with your actions.
You're probably familiar with the links between tobacco use (both smoked and smokeless) and oral cancer. But excessive alcohol use could also increase your risk, as can risky sexual behavior that could expose you to human papilloma virus (HPV) 16.
And what you eat — or don't eat — could also influence your cancer risk. Research over the last half century has uncovered a link between diet and cancer. Cancer development seems to begin with damage to DNA, the genetic material that "tells" each of our cells what it is and what it does in the body. Substances called carcinogens found in the environment — including the foods we eat — can damage our DNA and open the door for cancer to development.
But some foods also contain elements that protect our DNA from carcinogenic damage. Some of these are known as antioxidants, which protect cells from unstable molecules called free radicals. You'll find antioxidants, as well as other protective substances like fiber, vitamins and lycopene in plant-based foods, particularly fruits and vegetables.
Eating a plant-based diet also means you'll eat fewer foods that contribute to the rise of free radicals like saturated fat, animal protein and nitrates (a chemical that occurs in some food processing). A healthy diet, along with quitting tobacco use and moderating alcohol consumption, will help not only preventing decay or gum disease, it will also drastically lower your risk for oral cancer.
If you would like more information on oral cancer prevention, please contact us or schedule an appointment for a consultation. You can also learn more about this topic by reading the Dear Doctor magazine article "Diet and Prevention of Oral Cancer."