Posts for: December, 2018
By Protech Dental Care
December 21, 2018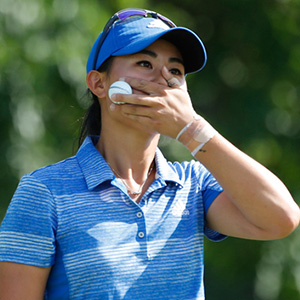 While the sport of golf may not look too dangerous from the sidelines, players know it can sometimes lead to mishaps. There are accidents involving golf carts and clubs, painful muscle and back injuries, and even the threat of lightning strikes on the greens. Yet it wasn't any of these things that caused professional golfer Danielle Kang's broken tooth on the opening day of the LPGA Singapore tournament.
"I was eating and it broke," explained Kang. "My dentist told me, I've chipped another one before, and he said, you don't break it at that moment. It's been broken and it just chips off." Fortunately, the winner of the 2017 Women's PGA championship got immediate dental treatment, and went right back on the course to play a solid round, shooting 68.
Kang's unlucky "chip shot" is far from a rare occurrence. In fact, chipped, fractured and broken teeth are among the most common dental injuries. The cause can be crunching too hard on a piece of ice or hard candy, a sudden accident or a blow to the face, or a tooth that's weakened by decay or repetitive stress from a habit like nail biting. Feeling a broken tooth in your mouth can cause surprise and worry—but luckily, dentists have many ways of restoring the tooth's appearance and function.
Exactly how a broken tooth is treated depends on how much of its structure is missing, and whether the soft tissue deep inside of it has been compromised. When a fracture exposes the tooth's soft pulp it can easily become infected, which may lead to serious problems. In this situation, a root canal or extraction will likely be needed. This involves carefully removing the infected pulp tissue and disinfecting and sealing the "canals" (hollow spaces inside the tooth) to prevent further infection. The tooth can then be restored, often with a crown (cap) to replace the entire visible part. A timely root canal procedure can often save a tooth that would otherwise need to be extracted (removed).
For less serious chips, dental veneers may be an option. Made of durable and lifelike porcelain, veneers are translucent shells that go over the front surfaces of teeth. They can cover minor to moderate chips and cracks, and even correct size and spacing irregularities and discoloration. Veneers can be custom-made in a dental laboratory from a model of your teeth, and are cemented to teeth for a long-lasting and natural-looking restoration.
Minor chips can often be remedied via dental bonding. Here, layers of tooth-colored resin are applied to the surfaces being restored. The resin is shaped to fill in the missing structure and hardened by a special light. While not as long-lasting as other restoration methods, bonding is a relatively simple and inexpensive technique that can often be completed in just one office visit.
If you have questions about restoring chipped teeth, please contact us or schedule an appointment for a consultation. You can learn more by reading the Dear Doctor magazine articles "Porcelain Veneers" and "Artistic Repair of Chipped Teeth With Composite Resin."
By Protech Dental Care
December 11, 2018
Around 20 million people—mostly women after menopause—take medication to slow the progress of osteoporosis, a debilitating disease that weakens bones. But although effective, some osteoporosis drugs could pose dental issues related to the jawbones.
Osteoporosis causes the natural spaces that lie between the mineral content of bone to grow larger over time. This makes the bone weaker and unable to withstand forces it once could, which significantly increases the risk of fracture. A number of drugs have been developed over time that stop or slow this disease process.
Two of the most prominent osteoporosis drugs are alendronate, known also by its trade name Fosamax™, and denosumab or Prolia™. While originating from different drug families, alendronate and denosumab work in a similar way by destroying specialized bone cells called osteoclasts that break down worn out bone and help dissolve it. By reducing the number of these cells, more of the older bone that would have been phased out lasts longer.
In actuality this only offers a short-term benefit in controlling osteoporosis. The older bone isn't renewed but only preserved, and will eventually become fragile and more prone to fracture. After several years the tide turns negatively for the bone's overall health. It's also possible, although rare, that the bone simply dies in a condition called osteonecrosis.
The jawbones are especially susceptible to osteonecrosis. Forces generated by chewing normally help stimulate jawbone growth, but the medications in question can inhibit that stimulus. As a result the jawbone can diminish and weaken, making eventual tooth loss a real possibility.
Osteonecrosis is most often triggered by trauma or invasive dental procedures like tooth extractions or oral surgery. For this reason if you're taking either alendronate and denosumab and are about to undergo a dental procedure other than routine cleaning, filling or crown-work, you should speak to your physician about suspending your medication temporarily. Dentists often recommend a suspension of three to nine months before the procedure and three months afterward.
Some research indicates this won't worsen your osteoporosis symptoms, especially if you substitute another treatment or fortify your skeletal system with calcium and vitamin D supplements. But taking this temporary measure could help protect your teeth in the long run.
If you would like more information on the effect of osteoporosis treatment on dental health, please contact us or schedule an appointment for a consultation. You can also learn more about this topic by reading the Dear Doctor magazine article "Osteoporosis Drugs & Dental Treatment."